Apport de Chrono HRPS
Cold Sore ? Discover the natural solution, Chrono HRPS to strengthen your natural defences. An adapted response to rashes.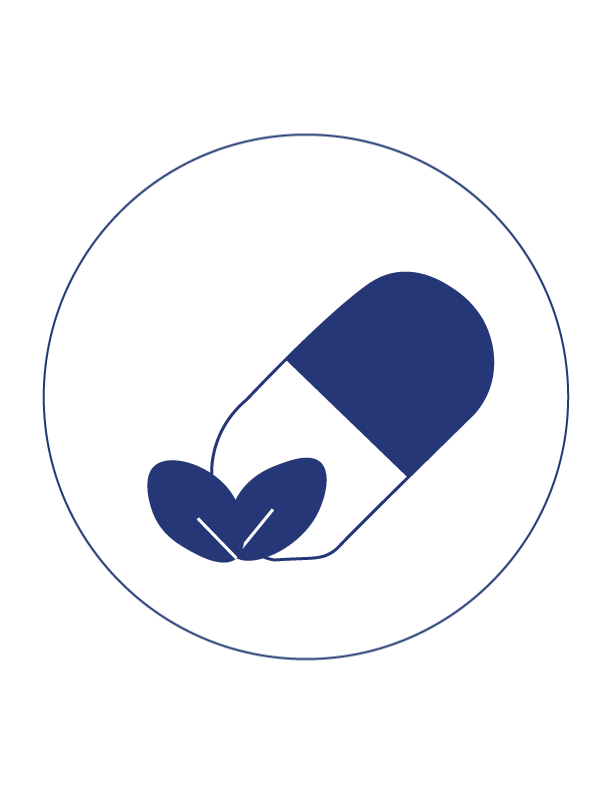 Synergy of active ingredients, 100% natural
The Chrono HRPS is composed of 100% natural active ingredients, without colorant, without GMO:
Royal Jelly and Propolis, powerful natural protections, stimulate immunity.
Thyme plays a major role in supporting the immune system.

Acerola

is the richest known source of Vitamin C.
Achillea and Tribulus support resistance, physiological dynamism and reinforce the synergistic action of the previous active ingredients.
Chrono HRPS, a natural solution to soothe cold sores.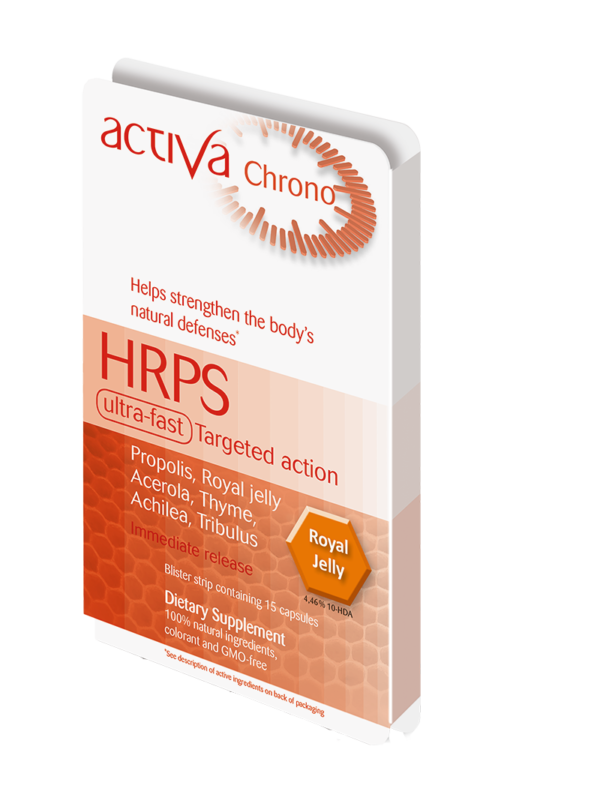 Suggested use
3 capsules a day in a single dose, with a full glass of water, outside of meals. The capsules can be opened before intake.

Blister strip containing 15 capsules.
Recommendations
To be taken as part of a varied and balanced diet and healthy lifestyle.

Keep out of the reach of children, protected from heat, humidity and light.

Not recommended for children under 12, pregnant and lactating women.

Do not exceed the recommended daily dose.

Consult your pharmacist for advice.
Ingredients
Thyme (Thymus vulgaris) 65,7 mg

Acerola (Malpighia glabra) 38,7 mg

Achillea (Achillea Millefolium) 25,5 mg

Tribulus (Tribulus terrestis) 25,5 mg

Other ingredients : xylitol**, vegetal capsule (natural vegetal cellulose, water). 

Coating: shellac. **excessive consumption may cause laxative effects.
Chrono's range charter
The Chrono's range from Laboratoires Activa offers an ultra-fast targeted action on the targeted sphere.
100% natural active ingredients, titrated dry extracts.

Concentrated dosage for Chrono efficiency

A Chrono action: each ingredient, perfectly recognized by the body, is delivered more quickly to the core of our body to restore imbalances.

100% bioavailability for 100% absorption

Microgranules, a technological innovation, ensuring: gastroprotection, rapid passage through the intestine, controlled release of active ingredients with increased exchange surfaces.