Interview with Almaric Véret (1/2):
"We are the most scientifically based food supplement on the market."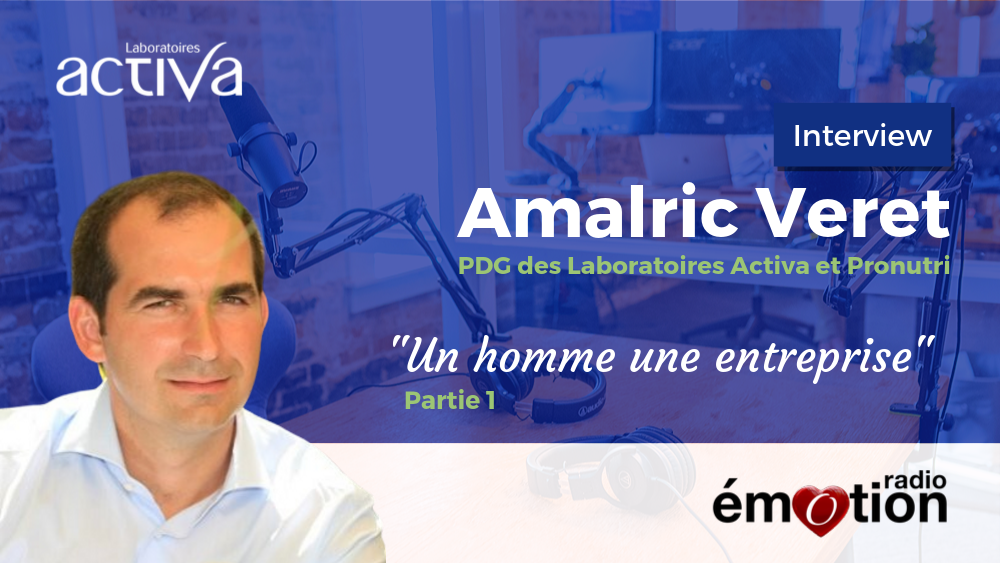 Listen to the interview:
undefined
Amalric Veret, owner of Laboratoires Activa has been interviewed by the radio program "A man, a company" (in French "un homme, une entreprise") to describe the history of the laboratories and their positioning to differentiate themselves from the other market players. The first part of the interview is available below.
In a few words, tell us about your background:
"First of all, it is a story of discovery and family vocation. Pronutri is expert in molecular information. We design, develop, produce and market ranges of food supplements, optimised in their highly differentiated efficacy.
Pronutri began to be marketed to doctors in 1995. Then, based on our know-how and the efficiency of the products, we decided to make this technology more accessible through pharmacies with the Activa brand.
Thus, we have a Well Being range for 1 months courses, for example to support sleep or stress, respiratory problems…and the Chrono range, with an efficacy within 30 minutes.
Today we are the only lab to offer a one-week course dietary supplement that's effective within 30 minutes."
How do you position yourself in relation to other laboratories? What makes you different? Who are your customers?
"Today we are a french company that designs and manufactures in France. We master the whole process. We are an integrative company and we are doing a lot of R&D. We have partnerships with the CNRS. We are the most scientific food supplement on the market. Oligo-metal complexes in tablets, microgranules, controlled, delayed and immediate releases.
We propose training programs for doctors and health practitioners with Nutripuncture®. This is a modality that looks at the cause of a disturbance in the patient's individuality. We also propose trainings with our pharmacist partners and our teams directly in the pharmacy."
Read the interview in French here.
Follow us on social medias