Blueberry,
one of Activa's star ingredient
for better blood circulation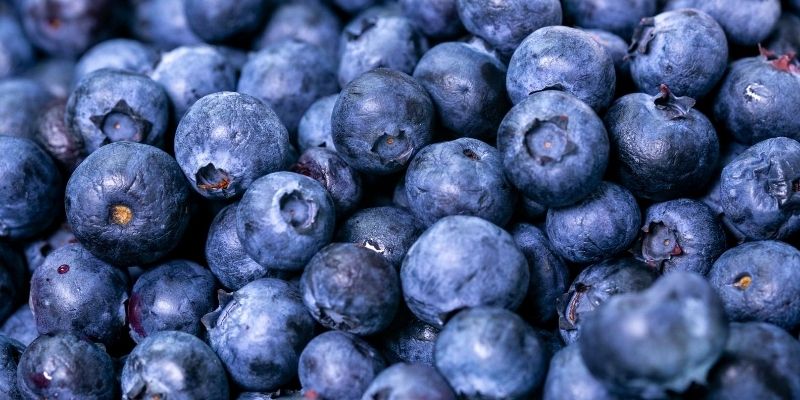 Blueberry, also called bilberry, is rich in vitamin C, but also provides iron, magnesium, potassium and phosphorus. It has a record amount of flavonoids (polyphenols) with thinning, anti-cancer and antioxidant properties. Besides other phenolic components, the fruits contain a high concentration of anthocyanins, which anti-oxidative effects exceed by far those of vitamins C and E.
1- Reduction of oxidation
Phenolic compounds in blueberries help to reduce oxidation of blood lipids, the effects of oxidative stress and inflammation of the vascular system (1). A controlled double-blind study against placebo,[2] involving 60 patients with chronic venous insufficiency, showed significant improvement in symptoms after 30 days of treatment with a Blueberry extract (3).
Blueberry helps to stimulate hair growth
Blueberry strengthens scalp capillaries by protecting them against oxidation and improves the contractile functions of vessels thereby improving the supply of nutrients to the hair bulb (root).
By fighting microcirculation problems, blueberry stimulates the vitality of the hair bulb, promotes regrowth and hair growth. Associated with other plants, it also helps to fight against the harmful effect of free radicals.
2- Stimulation of microcirculation
Numerous clinical and epidemiological studies have been published on the relationship between the consumption of blueberries and a reduced risk of cardiovascular and degenerative diseases. They indicate that consumption of flavonoids reduces the risk of loss of elasticity of arteries including those of the legs (arteriosclerosis).
Blueberry High in anthocyanins that support blood vessels
Blueberry strengthens capillaries (anthocyanosides) by protecting them from oxidation (4), improves the contractile functions of the vessels, reduces inflammation and stimulates the regeneration of the sticks arranged on the retina.
Activa uses blueberry extracts in its formulations such as Activa Well Being Circulation, Blood pressure, Hair and Human Structure Glucidotonic, to encourage and support blood circulation by reducing oxidation and stimulating microcirculation.
Sources:
[1] Gatta L., « Experimental single-blind study: 60 pts with venous insufficiency received bilberry extract equivalent to 173 mg anthocyanins daily of placebo for 30 days », Fitoterapia, 1988, 115:109-116.
[2] [1] Anderson ML1. A! preliminary investigation of the enzymatic inhibition of 5alpha-reduction and growth of prostatic carcinoma cell line LNCap-FGC by natural astaxanthin and Saw Palmetto lipid extract in vitro. J Herb Pharmacother. 2005;5(1):17-26
[3] USDA. USDA database for the flavonoid content of selected foods. 2003.
[4] Kay CD, Holub BJ. The effect of wild blueberry (Vaccinium angustifolium) consumption on postprandial serum antioxidant status in human subjects
Photo by Kelly Lacy from Pexels