Our partner club AS Monaco Triathlon at the TriGames in Cagnes sur mer
This year, our partner sportsmen are overjoyed.
After 18 months without putting on a number, it was time to resume the TriGames of Cagnes sur Mer, which is the support of the French championships. The AS Monaco Triathlon, the historical partner of Activa Laboratories, was present on Sunday 06 June 2021.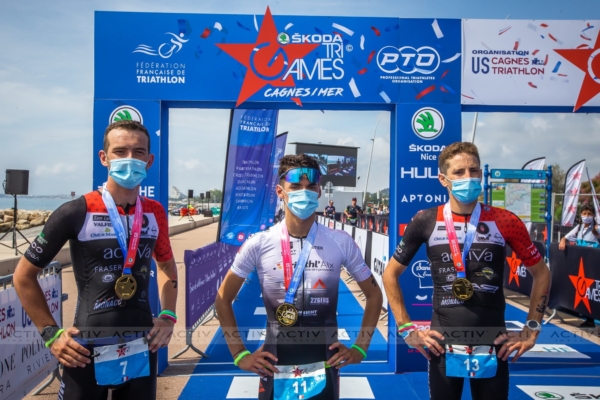 Big winners TriGames Cagnes sur mer 2021 edition
We are proud to see Sam LAIDLOW and William MENNESSON on the podium. They became French champions in triathlon L team.
Here are the results of each of the Monegasque athletes, members of the Monaco Triathlon club:
2. Sam, LAIDLOW 04:09:04
3. William, MENNESSON 04:11:07
10. Vincent, TERRIER 04:26:18
17. Laurent, LAMBERT 04:30:27 (CF 45/49)
125. Douglas, BACZEWSKI 05:01:23
136. Cedric, BUGHIN 05:03:07
198. Mathieu, BORHO 05:18:16
253. Olivier, FICHAUX 05:31:04
257. Charles, MARTIN 05:31:32
272. Cedric, EHRMANN 05:35:51
276. Patrick, ARGI 05:36:07
279. Lionel, MESNIER 05:36:24
282. Matthieu, POUPART 05:36:52
296. Yoann, LEFEBVRE 05:39:29
305. Elke, DOM 05:40:30
429. Jean Louis, MARTIN 06:12:48
457. Vincent, COLETTE 06:27:58
482. Alexia, BOUTHIAUX CHAPEY 06:51:02
We also highlight the victory of Sam LAIDLOW in the first edition of the Tradeinn International Triathlon in Girona, Spain, Sunday May 30, 2021 with a score of 8:41:46.
Congratulations to all!
Activa Laboratories wish our athletes good luck for the future!
Are you a sportsman and you wish to become an ambassador of our brand?
Follow us on social media